Last updated 11 March 2022 ·
For growing businesses, efficiency and effectiveness are essential. You're working hard to ensure progress and setting impactful OKRs to achieve your ambitious business goals. Attending board meetings that run over can burn into any senior leader's most valuable resource - time.
It's estimated that businesses spend roughly 15% of their time in meetings, with surveys showing that 71% of those meetings are considered to be unproductive and inefficient. This is why it's so important that businesses focus on running better meetings.
With a room full of C-Suite leaders, it's even more important to get timings absolutely spot on, ensure you make an instant impact, allocate resources in a meaningful way, and focus on the right topics.
So, how can we make sure that next time a board meeting invite goes out, attendees can be sure it will be worthwhile and won't eat into their much needed time? Here are a few easy tips for running better board meetings.
Set a compelling agenda
Board meetings should always have a compelling agenda to ensure that all key stakeholders can prepare the necessary information and materials required to keep the meeting on point and most effective. A compelling agenda is more than just an indication of the meeting's purpose – they allow for appropriate preparation, encourage concise conversation, set the tone, and steer the focus for the meeting, ideally including at least one point of intrigue.
An agenda should:
Identify the main outcome of the meeting, ideally aligning with the status of business OKRs, providing an opportunity to discuss progress, performance and achievements being made by all teams.
Identify all topics or points that should be covered.
Outline the time to be spent on each topic.
Identify a lead for each area to ensure there is always an "expert" prepared to cover that topic and keep the meeting on track.
For a better board meeting, it's recommended that you use the last couple of minutes as 'review time'. It allows those involved to quickly list down any tangents or provoked thoughts to be added to the agenda of the next meeting and keep timeframes accurate and board meetings productive.
Prepare, prepare, prepare
Once a compelling agenda has been created and circulated, all stakeholders can prepare accordingly and ensure they know exactly what is expected of them in terms of their impact within the meeting itself and any necessary reporting information required.
Accurate preparation is essential to keep meetings on track. Finding the most up-to-date statistics and performance information of all teams in the business can be time-consuming and distracting. This is where the right technology can completely transform the efficiency and effectiveness of the board meeting.
Using the right tools to keep you on track
Have you ever been in a meeting that is constantly slowed down or interrupted whilst someone frantically looks for the most accurate performance statistics? Having the right tools on hand to prevent this can be a complete game-changer.
For leaders, there is a constant need to understand performance, progress, and achievements being made towards business OKRs to easily inform others, identify issues or reward achievements in any given moment. Using goal-setting and monitoring tools can help meetings stay on track and at their most effective by providing all the information in one place.
In a room full of high-level decision-makers, having an accurate view of full team progress and performance in real-time means you can quickly see how close you are to achieving the business OKRs. This visibility of performance removes confusion and makes data clear to all of the decision-makers involved in the meeting.
There are many OKR software tools available; we offer the award-winning 1-3-5® OKR software, which shows the live performance of all teams/individuals in your business in a 1-page dashboard through a series of percentage dials. Each dial clearly indicates how close that person or team is to achieving all of their OKRs and is colour coded to indicate at a glance if they are on track within their specified timeframe.
The image below shows how this dashboard looks within the software: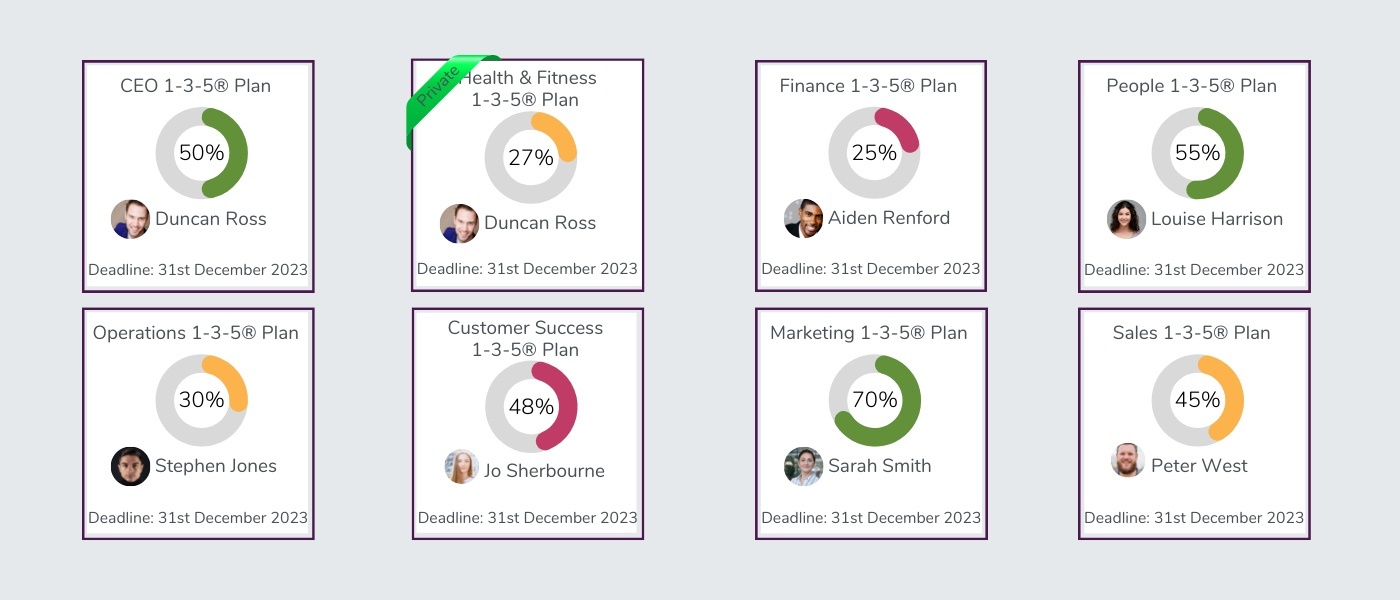 Conculsion: Crafting better board meetings
For any senior leader, managing assets and teams to create meaningful change is key to their role within the business. Organisation skills and time management are vital.
Software is one of the key tools for helping you manage your OKRs and improve your time management. It's readily available (along with a thoughtful agenda and careful preparation) to help make every board meeting more efficient and effective.
If you would like any further guidance on this topic or learn the three immediate actions you can take to improve your team productivity and effectiveness today, book a 15-minute discovery call with our Founder and CEO, Pete Wilkinson.
Alternatively, if you aren't yet using OKRs in your business but are keen to get started, download our free online workbook - The OKR Builder™ today.