Live Masterclass:
Using OKRs to succeed with hybrid working and achieve high performance through people management.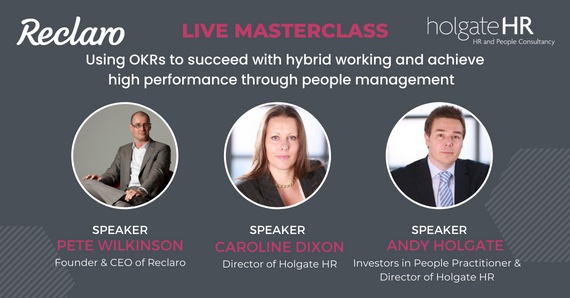 Friday 21st October 08.00 - 08.45 BST
Via Zoom
The most noticeable effect commonly felt in the business world following Covid-19 is the normalisation of remote and hybrid working. As many companies get back to business, the expectation that employees will return to the office full-time is simply not met by the workers themselves. Many prefer the flexibility of remote or hybrid working, and 64% of workers would consider quitting if asked to return to the office five days per week.
On the other hand, employers are keen to see their workers back in the office regularly as life returns to pre-covid norms. One of the main reasons for this has been cited as not only trust but control over the work being output.
So, how can employers ensure they strike the balance right by offering an appealing hybrid model whilst providing a high level of productivity, real trust, team alignment and control?
Using OKRs and effective people management.
We've teamed up with Caroline Dixon and Andy Holgate from Holgate HR to curate industry-leading expert content addressing some of the key challenges many businesses face as we emerge post-pandemic and get to grips with hybrid working.
Register your place today for this exclusive masterclass focusing on how OKRs can help you strengthen your people strategy, sharpen your focus and align hybrid teams for high performance, maximum productivity and faster growth in 2023.
In this fast-paced, interactive masterclass, you will learn:
How OKRs can be transformational for growth-focused businesses
Three essential elements of people management required to achieve high performance
How to overcome the most common challenges that arise specifically with hybrid working
How to spot early signs of underperformance and take action
Two most influential factors that affect culture within a hybrid working environment
How to maximise productivity and succeed with hybrid working
The Speakers
Pete Wilkinson, Founder and CEO at Reclaro:
As an MBA-qualified business coach, multi-award-winning speaker and published author of Unstoppable, Pete delivers regular face-to-face masterclasses throughout the UK. He is passionate about helping business leaders and their teams identify ways to reduce frustration and align their efforts to focus on what matters most to achieve outstanding results faster. Having been a senior leadership team member within a £30 million turnover business, Pete recognises the challenges leaders face and has worked independently to develop his award-winning, transformational 1-3-5® planning methodology that helps companies execute their strategy at pace.
Pete's extensive knowledge, experience and business planning expertise have undoubtedly helped us achieve transformational growth. Not only did we reach our business goals, but I also ticked off every single one of my personal 5-year goals too. It goes to show the power of having a clear vision and then a plan to execute.
Asad Riaz
CEO
Location Location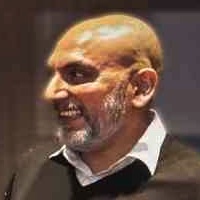 Andy Holgate, Investors in People Practitioner & Director of Holgate HR:
Andy, a Chartered Fellow of the Chartered Institute of Personnel Development (CIPD), has over 30 years of experience in HR & Organisational Design/Development. In addition to his consultancy experience and qualifications, he has led large HR functions within FTSE 250 businesses and the not-for-profit sector. Andy brings significant expertise in working with a wide range of stakeholders to create solutions that develop the capacity and capability to equip organisations for success. He specialises in the design and implementation of talent management, employee engagement and change programmes. He has extensive experience in Assessment, Development and Learning Centre design and measuring behaviour against client competency frameworks. His expertise has been gained across many sectors and involves working internally for global organisations.
As a registered Practitioner for Investors in People, he is well versed in incorporating the latest thinking around 'High-Performance Working' and the metrics of 'Valuing Your Talent' into the solutions he develops.
Caroline Dixon, Director at Holgate HR:
Caroline is a CIPD-qualified HR consultant with 30 years of experience in HR and OD. Having been established as an independent HR consultant since 2009, she provides all clients and contacts with high-quality HR support and advice. She has a thorough knowledge of current employment legislation and a wealth of experience handling complex situations. Caroline has been praised for her professionalism and ability to help clients enhance their people strategy for better results.
Over the years, Holgate HR has provided us with supplementary HR support on several projects – including employee relations and organisational restructuring work; coaching and mentoring, working with us in the design and ongoing support of our performance management process for our valued employees. No matter the project, their professionalism and practical advice are always present, and our senior management team value Andy and Caroline as one of our trusted providers.
Finance Director, Care Giver
Loved by forward-thinking, ambitious brands...