I enjoy reading books. But I find studying them more effective. I read with a highlighter pen, a pencil and a notebook, and I jot down my key takeaways after finishing each book.
Recently, I've got stuck into 'The Advantage' by Patrick Lencioni. I enjoyed it immensely and it was tremendously insightful.
At one point, Lencioni talks about focusing on results. He writes "…there is no getting around the fact that the only measure of a great team – or a great organisation – is whether it accomplishes what it sets out to accomplish."
He then goes on to say,
if the organisation it [the team] leads rarely achieves its goals, then by definition, it's simply not a good team.
I love the simplicity of this. Time and time again, I see teams making things more complex than they need to be. If your team achieves what it sets out to achieve it's a good team. If it doesn't, then even though the team may have tried hard, it's not a good team.
I always aim to get our clients to focus on results.
Shared goals lead to better results
Lencioni then writes something that I think is beautiful: "when it comes to how a cohesive team measures its performance, one criterion sets it apart from non-cohesive ones: its goals are shared across the entire team."
Now this may sound simple enough, but it's not that easy to achieve.
Firstly, many people in the leadership and management teams look out for themselves. They are concerned with the results of their own business unit or department rather than looking at the whole picture.
And secondly, it takes a lot of work for the senior leadership team to feel confident to share the company's overall objectives and goals. After all, if we share them and then don't achieve, then we can look a little silly.
But for the organisation that prioritises this sharing of goals across the entire team, the results are fantastic. Here are the three big things I've seen in companies I work with:
Everyone understands the role they have to play in helping the company achieve its goals.
Everyone understands what is important to the whole company rather than just their area.
Everyone can see how the company needs every single member of the team to take a shared responsibility for the company achieving its goals.
So, the question then becomes how do you find a way to share the goals across the entire team? And, once you've shared them, how can you enable your team to see if they're winning or not? ??You could share your goals on the shared company drive and then update them as you progress. You could shoot a short video each week and share it with everyone. Or you could shape your appraisal system, which hopefully is more frequent than just once a year, to review goals and share new ones.
Your challenge is to find a sustainable way to 'get stuff done and execute.' What we don't want is 'we sometimes set goals and then update you on how we're doing from time to time.'
One team, one dream
Whichever way you choose to focus your team's resources on clear outcomes, it's critical we build one team with one vision that everyone is aligned to. That's way to get things done and be more successful.
If you want to know more just contact us here.
Free Action eBook
Want some super quick actions for you to be more productive?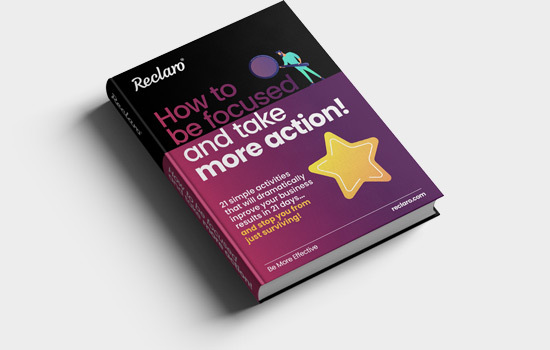 Get your free action book
Get started with Reclaro®
Want to dramatically improve business performance, align your teams and focus on what matters most to achieve results? Our award-winning 1-3-5® OKR software and expertise can help.
Book a demo now